What's New at Glenn Land Farm?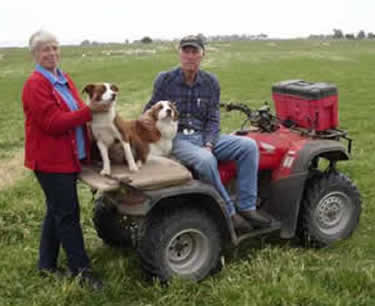 The newest thing at Glenn Land Farm is that we sold all of our goats to make room for more sheep. We sold about 100 does and will add 100 ewes to take their place in our management scheme. That will put us at about 400 ewes to lamb which will be divided about equally between purebreds and commercials. We will maintain high culling standards for the sheep and cattle and will concentrate on high production levels. We are charter members of the Purebred Dexter Cattle Association of North America. All of our cattle are registered in the PDCA. Contact us for information about becoming members of this member driven, professional organization.
In April of 2004 we were able to sell our original farm near Orland, California and buy a fabulous farm just 7 miles away. The new farm features 160 acres of irrigated pasture, an outstanding set of barns, corrals and lanes, plus 70 acres of unimproved grazing land along Walker creek. Our recently remodeled home sets just above the creek with a view of all of the pastures. The irrigated pasture is set up for intensive grazing and will handle at least 200 Animal Units during the grazing season.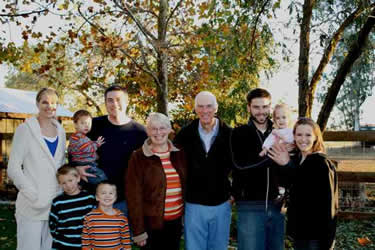 Our farm is located in the Sacramento Valley, along Interstate 5, 90 miles north of Sacramento and 150 miles Northeast of San Francisco. Traveling from the north or south on I-5, simply take Exit 614 (Road 27) just south of Orland. We are on the West end of Road 27. Our address is 6352 County Road 27, Orland, CA 95963.
Wes retired after teaching for 35 years at California State University, Chico. He taught Animal Nutrition, Feeds and Feeding, Ag Leadership, Undergraduate Research Methods and Sheep Production. Since retirement Wes has devoted his time to developing the new ranch, breeding high quality Dexter cattle and White Dorper Sheep. Jane has taught part time at the local community college, raised two sons and produced and shown breeding sheep and project lambs for 4-H and FFA exhibitors across the country. Jane spends her "spare" time apart from the ranch work, crafting decorative items and gourds which she sells at craft fairs and livestock events. Both Wes and Jane judge sheep and fleeces at fairs on the West Coast.
We would love to hear from you concerning questions about Dexter cattle or our sheep flock. Please see our sales page for cattle, sheep and goats for sale. Please e-mail or call us with inquiries.
Future Plans: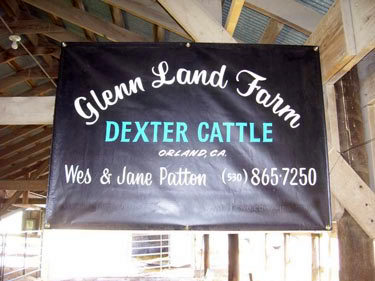 Dexter cattle: The demand for Dexter cattle has been brisk and we are planning to increase the size of our herd in the next couple of years. We currently have 55 head of cows. We will continue to have lines of black, dun and red cattle, including both horned and polled animals. We will continue to do genetic testing to allow buyers to make more informed purchasing decisions.
Our A.I. bulls all come from good milking lines and are all free of chondro and PHA.  Glenn Land Mr Tor and Glenn Land Mr Fire Man are both A2/A2.  Mr Redfire, Mr Shawn and Mr Fire Man are all registered with both the PDCA and ADCA.
The Glenn Land Farm Dexter herd was established in 1989 based on bloodlines from Missouri, Idaho, Oregon and California. Original cattle were selected for their conformation, temperment and calving ease. During the past 20+ years these traits have been emphasized plus uniformity of type has been established. Herd size will eventually work up to about 60 cows, plus replacements and bulls. We now have a larger selection of breeding animals and steers available. Our cattle are run on irrigated pasture in the summer and on native pasture in the winter and little or no supplemental feed is required.
White Dorper sheep: The demand for our White Dorpers has been very strong and we have increased the number of breeding ewes to 400. Approximately 200 of these are registered and the balance are in our commercial flock. We have been using Australian genetics for several years through A.I. and will continue to improve our flock in this manner. We sell ewes and rams to people who want to stop shearing and have easy care sheep. Our market lambs find their way into a variety of ethnic markets and to upscale supermarkets and restaurants in California's wine country and the San Francisco Bay Area.
We are excited about using A.I. in our livestock enterprises. In the White Dorper flock we are using semen from Australia for A.I. In the Dexter herd, we introduced English genetics from Beryl Rutherford's Hedgehog III bull and transferred fresh embryos from one of our best females.